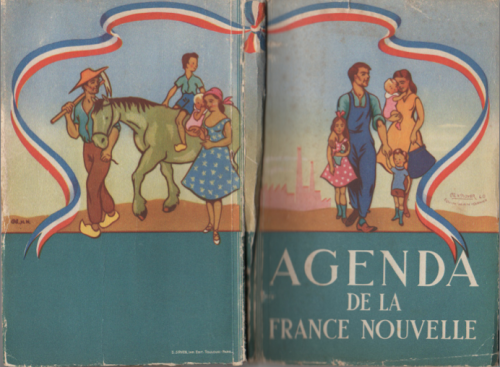 While living in France a few years ago, I found this old agenda in a pile of post-flea-market trash. Not knowing exactly what I had found, I picked it up along with some other books someone deemed no longer relevant. This piece of Vichy-era propaganda entitled Agenda de la France nouvelle is a gold mine for teaching the second world war: each page can serve as an entry to the discussion of the regime's political and social program. Some of the themes we picked out in an advanced civilization course are the following:
– emphasis on physical fitness and health
– centrality of maternity, family in daily life
– making the most of food rations
– the idea of purity (and the ramifications for Jews and others)
– a certain narrative of France's 1939 defeat
– glorification of the paysan
– the cult of Maréchal Pétain
Below are two links to files each containing 16 pages of this 384-page agenda, for academic study. Most of the agenda contains daily calendar pages with a quote from Maréchal Pétain on each one. I've chosen the pages I find to be most exemplary. I used this as a source for my students' commentaires, assignments where they had to analyse a historical document, explaining its significance and how it sheds light on the themes studied in class. I don't believe there are any copyright questions about this, so feel free to use them in your courses as well.