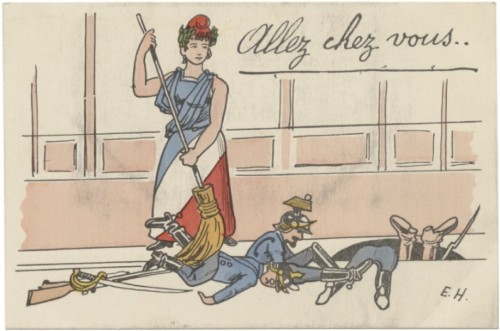 Images
Postcards from the Bowman Gray Collection at the University of North Carolina
You can browse by country, name, or subject (includes photos and many caricatures as well, like the one on the left).
Photos from the French site 1914-1918.fr.
Texts
For both in-class discussion and as a written assignment, I had students read an excerpt each from the following Barrès and Valéry texts.
Maurice Barrès, L'union sacrée (1915)
"A la veille de la guerre," chapter III "La mort de Jaurès"
Troisième partie, chapter IV, "L'âme des soldats"
Find the full text on Gallica here.
Paul Valéry, La crise de l'esprit (1919)
Première lettre
Download the full text from the Université de Québec here.