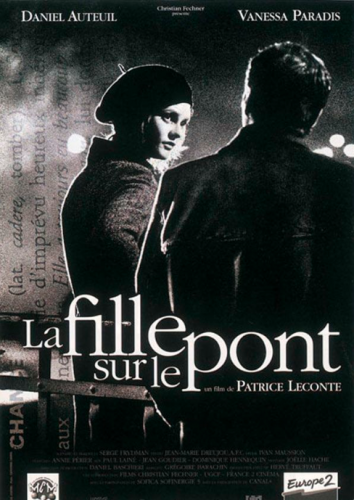 Because of its striking cinematographic effects (black and white film, dramatic close-ups, soundtrack…) and engaging storyline, Patrice Leconte's La fille sur le pont (1999) offers a rich source of material to analyse in an assignment on writing a compte rendu critique.
We are watching the film in class, in parts, as I try to avoid spending an entire class period in front of the screen. I created a fîche with basics about the film and space to jot down some notes on the two main characters, played by Vanessa Paradis and Daniel Auteuil. Download that pdf here.
I wanted to give the students an example of a critical review of the film from a French newspaper, but finding one online was surprisingly difficult. Le Point finally came through; you may find that review here.
The book we use in the class, À vous d'écrire, has two examples of reviews in the chapter (8) on the compte rendu critique. Several vocabulary lists are also provided, although you can easily make your own lists of cinematographic terminology. I found this site particularly helpful.